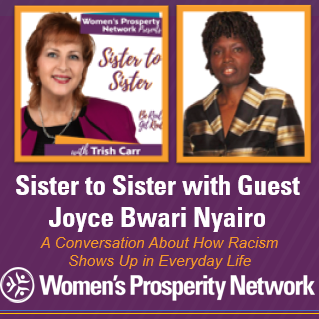 The thing about white privilege is that white people don't see it.  "White privilege" doesn't mean your life hasn't been hard, it simply means that your skin color isn't one of the things making it harder.
This series is meant to share experiences of real people who have experienced racism and still experience it. The goal is to shine a light so that we ALL see it and take actionable steps to do something about it.
Multi-lingual and widely-traveled, this former International Monetary Fund (IMF) and World Health Organization (WHO) staffer, mother of 2, and grand-mother of 7 has perfected the art of balance.
Her amazing abilities in this regard have catapulted her into a passionate and rewarding career of providing life-coaching services, based on Christian values, to individuals and families—with the purpose of helping clients bring balance to all major aspects of their lives. To achieve this, AmazingBalance (AB) utilizes a proprietary 5-pillar concept of focusing on spirituality, health, relationships, work and money.
 As CEO of Amazing Balance, LLC, Dr. Nyairo serves as a catalyst for inspiring and empowering multicultural, international business and religious organizations that span the globe.
She is an accomplished and certified speaker by the National Speakers Association (NSA) and the International Federation of Professional Speakers (IFFPS); she is the proud recipient of two first-time first prizewinner awards for Toastmasters International Table Topics and its International Speech and Evaluation contests.
 Also a Certified Health and Lifestyle Coach, Ms. Nyairo is a responsive advocate for health issues; and has made numerous presentations on health and wellness topics. Her audiences have included the Living Well Institute,  Encouragement Ministries, Inc., and Content Communications, Inc., the Business Network Group of Entrepreneurs of Baltimore, as well as schools, churches, conferences and retreats. 
Learn More www.amazingbalancellc.com 
For more information about Women's Prosperity Network go to 
https://womensprosperitynetwork.com/  
https://www.facebook.com/groups/WomensProsperityNetwork