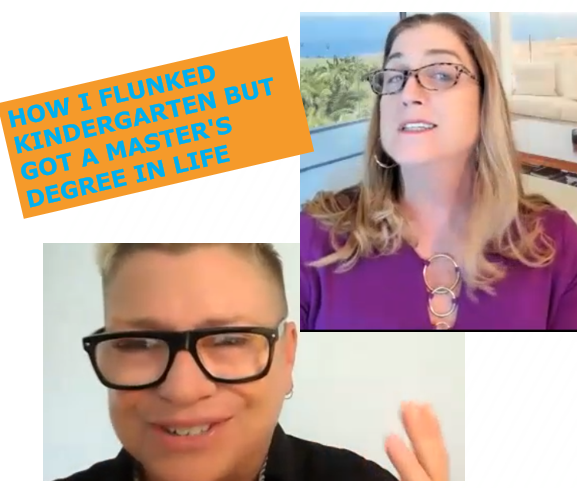 Okay, so Christine Blosdale didn't really "flunk" anything. But she did manage to repeat Kindergarten after the elementary school she attended convinced her parents that "Christine just isn't ready to be around children yet."
Was she throwing tantrums if she didn't get her milk and a nap? No.
Perhaps she had massive meltdowns about being away from her family? Nope.
She had to attend Kindergarten TWICE because she was…(drum-roll please)… "Developmentally too old and sophisticated." We kid you not.
Sometimes in life we don't get to move forward.
Sometimes we get held back from what we think we need - or deserve.
Sometimes we take a bit longer to get to our destination. But it's all of those beautiful details in the middle of the journey that make it all worth the wait.
Knowing this in the deepest level of one's soul can help you not only survive those curveballs that life throws at you - but it can also help your family, friends, community and your clients well.
ABOUT ME
Christine Blosdale is an Amazon #1 International Best Selling Author, Public Speaker, a Podcast and Business Coach, Multi Million Dollar Fundraiser and a Product & Brand Enhancer. In other words - you NEED her!
Her recent hit book Your Amazing Itty Bitty Podcast Book: The Top 15 Reasons Why You Need To Tap Into The Power (and Profits) of Podcasting became a #1 Amazon Bestseller in both the United States and Australia! She's also an award-winning Radio Personality and Host of the Podcast show Out of The Box With Christine.
She recently launched the Boss AF Bootcamp (a LIVE Intuitive Online Coaching Program) and has raised well over 18 Million Dollars for both non-profit organizations and private companies alike.
For more info visit ChristineBlosdale.com and https://www.facebook.com/ChristineBlosdaleConsulting
For more information about Women's Prosperity Network go to 
https://womensprosperitynetwork.com/ 
https://www.facebook.com/groups/WomensProsperityNetwork